Summer of Lincoln 2.0 is almost over. The end is close. Of summer, that is. The end of summer just means the beginning of fall, and that's one of my favorite seasons. If I'm being honest, every time I get to experience anything new, I'm going to celebrate. There were some who predicted I wouldn't be around to see last autumn, let alone this one.
I've been busy making memories…swimming, boating, running, playing and generally making everyone smile and want to rub my belly. My Mom says that memories are the currency of the mind; that there's nothing at all more valuable. Some day, maybe even soon, only memory will prove that I lived. I want to make sure the proof not only memorializes me, but also brings joy to the one remembering. Since I can't talk, that's the best way to show everyone how much I love them. I want people to laugh out loud when they think of me!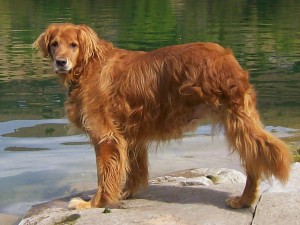 So, I'm getting my last few warm swims in. My Dad swam with me today. He races me to the ball, but he lets me win every single time. That's okay, though. I know he does it because he loves me so much and he wants to spend some extra time together.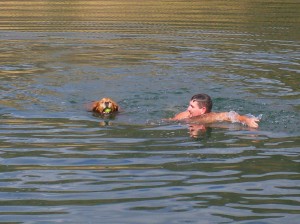 Plus, we're a little overrun with girls around here since my Mom brought home a new "foster" dog. Ha! Good one, Mom. If it's a foster dog, you have to give it back at some point, and I DO NOT see that happening.  Even my Dad said, "Foster dog…that old gag". It's like my Mom doesn't know we're on to her, or something. It's all good though. Jasmine is pretty funny and she likes to play. I'm smart enough to realize that I can't begrudge her place in our house, since that was me eight years ago. If my Mom wasn't a rescuer, I wouldn't be here either.
Here's a video of Jasmine if you want to see my new "foster" sister. 
I'm trying to keep this one short. I just wanted to let everyone know that I'm doing great and that I look forward to tomorrow every single day. I'm not going to waste a single second since I have to be out there making happy memories for everyone.
My Mom says I've made her rich already. She says she's got a full savings account of mind currency thanks to me, but I'm not taking any chances. No wasted time here.
To live in hearts we leave behind
Is not to die.
~Thomas Campbell