I've been trying to get my Mom to understand the concept of time for years. She doesn't really get it. She has a hard time living in the moment. I think she worries about a lot of things she doesn't have any control over. She needs to be more dog-like. You know…live in the NOW! I've taught her quite a few things, but we're still working on that one. On top of that, she worries about silly things….things that are far in the past, things she can't change. And, I have to admit, she worries about me. I wish I could tell her not to. I have everything I need, including a lake and a lot of tennis balls, which I keep next to me at all times.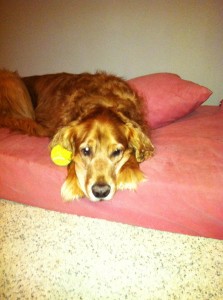 She's feeling real bad about Sammy and all the other tripawds we've said goodbye to lately. I've told you before, she doesn't wear hope very well, and every time we hear that another friend has crossed the bridge, it hits her real hard. We all understand that I could be next. I think my Mom spends a good part of her life holding her breath, like she's rationing them, waiting for our luck to run out.
I'm all good, though. No matter what happens. No matter if time is on my side or not. No matter if I live a week or a year. No matter if I die of old age or of this effing cancer. However it turns out, I'm all good.
I've had all a dog could ever ask for. I'm ten years old. I'm almost to my two year ampuversary. (My Mom won't talk about that until it gets here because she's afraid to jinx it). I got rescued from a real bad place, and ended up in dog paradise. I'm treated like royalty by practically everyone. I swim and run and play pretty much when ever I want.  I ride in a convertible.   I have people who love me.  Think of all the other pound dogs out there who never get the chance at half of that stuff.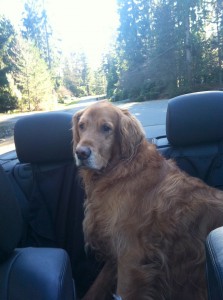 I'm happy and I'm going to stay happy for as long as I'm here. I just have to make my Mom understand that it's okay, no matter what. My life is a dream, and it's not even over yet. Game on, I say. I'm not quitting now. Let's go LIVE! And Mom, don't forget to breathe.
"There is no chance, no destiny, no fate, that can hinder or control the firm resolve of a determined soul." Ella Wheeler Wilcox
This is dedicated to Lincoln's BFF, Sammy, and his Mom, Elizabeth who never gave up hope, and who inspired me with her unwavering belief in her beautiful boy.