Tripawds is a user-supported community. Thank you for your support!
My name is Lincoln…and I'm drug free. No more pills hidden in my food. No more narcotics tucked into treats. Drug free! Unless you count chemotherapy (which, by the way, we don't. My Mom says anything with "therapy" in the name is therapeutic and not a drug"). I am officially done with all of my pain medications, and I am feeling pretty great. I got my sutures out exactly two weeks after my surgery, and just as I suspected, we were no sooner back from the vet, and we all loaded up and headed off to the cabin.  You all remember what's at the cabin, right? THE LAKE!!
 
My Mom was a little worried about me riding in the back of the truck (just so you know, it has a canopy and lots of smooshy dog beds) because she was afraid I wouldn't be able to keep my balance since usually I like to stand up and stick my head out the window. Well, she was right about the balance, but she didn't need to worry. We goldens are one of the smartest breeds, after all, so I figured out pretty quickly that for now anyway, most of my truck rides would be from the seated position. As it turns out, it really wasn't so bad. I just relaxed and let my Dad do the driving, and pretty soon we were there.
 
It was getting a little late, so we just went in and ate dinner and then we headed over to the neighbor's for cocktail hour. My Mom says that I am "amazingly ambulatory" considering the recent surgery and the slippery floor next door.   I took this to mean that I was a total rock star proceeded to go about trying to prove this fact to each and every person in the house. Once I made it through all the people, I just started again at the top of the list. Do you think they'll figure out that I'm just doing it for the attention? I mean really, how great is it that there are five other dogs here and they are all being COMPLETELY IGNORED because they aren't "amazingly ambulatory"? And the humans, honestly, they are practically fighting over who gets to pet me. If I play my cards right, this whole tripawd thing may actually work to my benefit.
 
Unfortunately though, the next morning, I found out some VERY BAD NEWS. Evidently my Mom and Dad have purchased a life jacket for me and they actually expect me to wear it when I go swimming. They seem pretty set on it, in fact. I did my best to convince them that it is really not a good idea. I laid down while they were trying to put in on me. I even walked away when I was instructed to stay (I just pretended like I had to go to the bathroom….works every time). I flipped over and give them my best back-scratching-butt-wiggle-in-the-grass. I rubbed on and leaned against them individually and collectively. All to no avail. They are making me wear the life jacket. Seems as though it's not negotiable. Crap.
 
This is payback, I'm certain, for making fun of Fletcher when he had to wear it. Now,I wish more than anything I could take it back. But seriously, he couldn't even swim, so he deserved a little ribbing, right?  Somebody must see my point….
 
Anyway, it's on, and I feel silly and less than magnificent, even though my Mom is repeatedly telling me how incredibly handsome I am. We all make the walk of shame down to the lake, and before you know it, I don't even care about the stupid thing anymore. All I can think about is the fact that my Dad has a ball which he is obviously going to throw into the lake FOR ME TO RETRIEVE.
 
I am on the verge of SWIMMING and there is no greater sense of anticipation. Once his arm goes back, I am completely and totally in my happy place because I know what is coming next. It doesn't matter that I only have three legs; it doesn't matter that I'm wearing this vest; it doesn't matter that I'm not sure how I'm going to get out of the water. The only thing that matters is that I am going swimming, and not only that, once I get in, I'm swimming like I haven't missed a beat.
It's so much like heaven I just don't even know how to describe it. Honestly, I don't have to, because it's just like this one quote from this guy named Aleksandr Popov…"The water is your friend.  You don't have to fight with water, just share the same spirit as the water, and it will help you move."  This seems to be especially true now that I only have three legs. The water and I are one single entity, and it is blissful. It's just too much for words to describe.
 

Don't get me wrong, I know I have some balance issues, and some things to work on. Right now I have to have my Dad help me in and out of the water, but I'm hoping it won't be so slippery in the summer, and that maybe I'll be able to do it on my own. Plus, I could hardly believe it, but I heard my Mom and Dad say that the main reason I needed the life jacket was for the handle to make sure I don't fall, and not because I couldn't swim. What a complete and total relief!! For a second I was afraid they thought I couldn't swim any more. Sometimes I need to give them more credit. They really do know me pretty well.
After the swim, I did some posing for pictures on the grass, and then I took a little nap. If I'm being honest, I did get tired a little more quickly than I normally do, and my Mom and Dad are pretty strict about me not over exerting myself.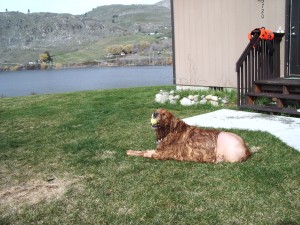 My Mom has been a little protective lately. I guess she is wondering what could possibly go wrong now, and trust me, I'm sure hoping that we are done with surgeries. I could use a break and I'm sure my Mom and Dad could too. I did over hear them saying that we would be spending basically every weekend at the cabin this summer.  In fact, I heard my Dad say it was the "Summer of Lincoln", and I'm not exactly sure what that means, but it seems like it's going to include a lot of lake time. And it's like I said before…The water is my sky, so I'm going to spend as much time as I can becoming one with the lake.
After all, it's my happiest happy place.