Well, it seems like the Summer of Lincoln is winding down. Of course we are at the cabin for Labor Day weekend, which means lots of swimming and running and wine tasting. I heard my Mom say that this could be our last weekend of nice weather, so we decided to make the best of it.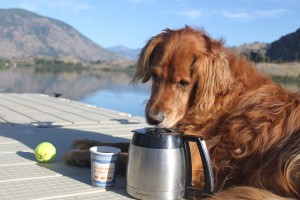 This is day one. Just me and my Mom, down on the dock, drinking coffee and reading and watching everything around us. I'm mostly watching my ball, because I think it's pretty funny when I give it a nudge and it rolls around on the dock and sometimes it rolls into the water…and you all know what that means – TIME FOR A SWIM.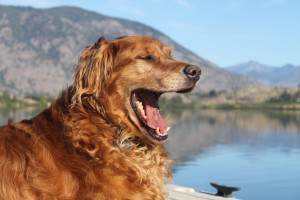 It was so pretty that morning, the lake was like glass, and my Mom made me post for a bazillion pictures. I'm getting to be sort of like a male model though, because when she pulls out her camera, I put on my best handsome face. Except, I have to admit, I did get a little bored with it after a while. 
My Mom said that this was pretty much her perfect morning. A beautiful place, a beautiful dog and a cup of coffee.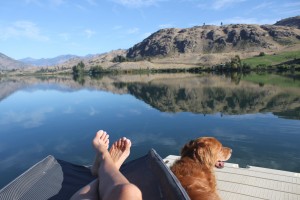 It reminds me of this one saying by Aristotle…I can only think of one thing greater than being happy and that is to help another to be happy, too.  That's what I do for my Mom, as I've mentioned. I force her to slow down and just be. I'm good for her, for sure. We spent a lot of time on the dock and in the water this weekend. We were both trying to make the most of the perfect days we had.
We also spent a lot of time POSING FOR PICTURES. Our other dog Kirby is really old, and really sick. She has cancer too, but hers is way worse than mine. It's melanoma, and she's had to have body parts cut off too (what is up with that?). She was only supposed to live for three months after we found out, and she is way past her expiration date, but nobody has told her.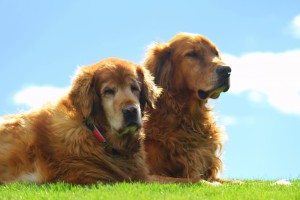 She is 16 1/2  and she has lived with us for 4 1/2 years, which we all think is pretty amazing. I'm trying take care of her melanoma spots, but my Mom says that no amount of licking is going to make them go away. She's not going to be around much longer, I think, but she sure had a good life with all of us. I've never been an only dog before, so it's going to be pretty weird for me, and for my Mom too.
Anyway, Kirby and I have both really enjoyed the summer. It was lots of fun, and we have never spent so many weekends at the cabin. It really was the best of times. So, even though it's almost over, we all made the most of it, and if I'm being honest, I hardly even noticed that I only have three legs. I still swim and run and roll around just like nothing ever happened.
 What's next, do you suppose?…something good, for sure, because when one thing ends, another  has to begin. I'm ready to roll! Who's with me?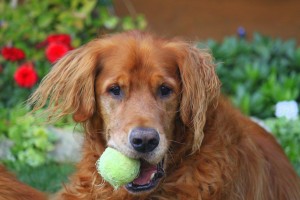 "Do not go where the path may lead, go instead where there is no path and leave a trail…Ralph Waldo Emerson