Tripawds is a user-supported community. Thank you for your support!
well you know the rest.  I do have to say that I'm not very pleased that I have to go through this surgery again. At least now I know what to expect. And, on top of that, this time I understand what is going to happen. I'm pretty sure it was Abraham Lincoln (my namesake, on account of my size) who said, "I don't think much of a man who is not wiser today than he was yesterday." When you get right down to it, that applies to a dog, too. Let me tell you, I just keep learning.
By now it's early June, 2009, and my Mom and Dad's theory is that if we do the surgery as soon as possible, I'll be back in the water again by late July. They've been having a lot of discussions about this, and I'm starting to think that they don't really understand how much I'm listening. My Mom knows I need the surgery. But I'm starting to get the feeling that for some reason she's real worried about this one in particular. She said something the other day about "tempting fate", but then she stopped talking, and just sat there and hugged me. Don't get me wrong, I love our one on one time, but when she gets worried, I get worried.
I finally put two and two together (yes people, we can add!), and figured out that she is concerned about me being put through so many surgeries in such a short time period. To re-cap: Brain surgery in January of 2008 (big fat hooray on this one though, because I should be dead by now); Right leg TPLO in November 2008 (perfectly healed, according to the docs); Left leg TPLO scheduled for June 2009. This is one of those times I wish I could talk. I really wish I could tell her that I understand she is only doing what is best for me, and that I really love her for it.
Here's the thing – My Mom always tells everyone that she loves how simple I am. Now don't go getting all up in arms about that. She doesn't mean simple, as in stupid. She means simple, as in uncomplicated. She always says that if humans could be more like me, our world would be a much better place. She likes it that I love what I love and that's that. There are certain people I love. I love her. I love my Dad. I love my Aunt Robyn. There are certain things I love. First on that list, as I'm sure you know, is SWIMMING. That's pretty much it. I know what and whom I love, and I commit to it unconditionally. Couldn't be any simpler, really.
According to my Mom, though, human's lives aren't that easy. She told me it is hard for her to make the decisions for me that she has to make. She is worried that she isn't doing the right thing. She says it is the most difficult thing in the world to make choices for the ones you love, because a lot of times you never know if it's right or wrong until it's too late. When she said that, though, I just shoved my head right into her hand, and made her rub my soft spot. I was trying really hard to remind her that even though most people told her the brain surgery was a bad idea, that she had made the right choice there.  Sometimes she's a little slow, but eventually I think she got my message.
The bad side of this, is that once I convinced her she was doing the right thing, I KNEW I'd be heading back to the hospital. I have sort of a love – hate relationship with my vet. On the way in, it's all good; on the way out, I wonder what I ever did to him. Why else would he keep doing this to me? Sheesh.
So, as I mentioned, here we go again. I'm back at the vet, and before I know it I  wake up and this time, my left knee is ON FIRE. My Mom always leaves a sweatshirt or something that smells like she or my Dad, and I really appreciate that, because I use it as a pillow, and it's nice to have something to remind me of home. Just like last time, after a couple of days I got to go home, thank goodness, and it was straight to the lake for some R & R.
I'm not supposed to get on the furniture for a while because of all of the plates and screws, but let's face it, where would you sleep if you had the choice, so while nobody is looking, I get up there, and then I try to get down real quick when my Mom or Dad comes in.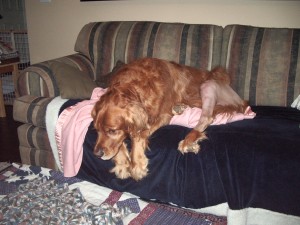 Since I've been through this once already, for some reason it doesn't seem to hurt as bad, but it is pretty irritating to have to sit and look at that lake, knowing that I can't get into it for a minimum of six weeks. In fact, it's almost like my Mom and Dad don't trust me at all, because they won't even let me outside without a leash on. At first I was a little insulted by this, because you would think they would have a little faith in me by now, but then all I had to do was take a look at that picture of me getting off of the sofa, and I have to admit, they make a good point.
Well, it turns out my Mom's fears were groundless. I made it through the surgery just fine, and the doctor said it went just as well as the first one. My Mom says that this is one of those times she is really happy to be wrong, and if I'm being honest, I'm pretty happy she was wrong too.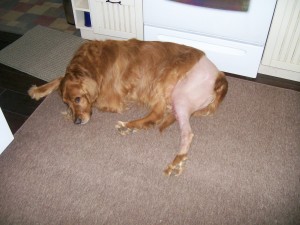 This recovery went pretty much like the last one, too. Lots of laying around and icing, and me gazing out the window at the lake dreaming of days to come. Just thinking of getting back into the water seems to make all of the pain just a bit more tolerable.
Another one of the quotes my Mom shared with me is, "What ever you are, be a good one."  – Abraham Lincoln…(we really like him, I told you, he's my namesake…I'm not named after the car,  like some of you probably thought, although my Mom says that would also be appropriate).  When my Mom told me that quote, right away I decided that what I was going to be, was a swimmer, and let me tell you, I was going to be a good one. I'm committed, and pretty soon, I'll be ready to go!! Oh, and one more thing, since I got adopted I've been living in Washington State, and my lake is on the eastern side of the state, in a place just near Chelan. Trust me, I hope I never see Oregon again. It wasn't so great there, and it's pretty amazing here, don't you agree?