Well, after I got to come home from the hospital so early, for some silly reason I got confined to the downstairs. My Mom and Dad got this gate thing that blocked me from going upstairs. Fortunately I had lots of friends downstairs because by this time my Mom had rescued three other dogs. They were all old when we got them, so they didn't really want to play, which was sort of a bummer to me, but everyone else seemed to think it was a good thing we all just layed around.  Fletcher seemed worried and insisted that he sleep next to me on my bed. I really wasn't thrilled about this, because my Mom made that bed especially for me because I was so huge, but I have to remember that Fletcher did alert my Mom and Dad before my very first seizure. I cut him a pretty big break because of that.
One other thing, the day after my surgery, my sister got sick and ended up in the same emergency room. This stressed my Mom out, but it was good to have family with me in the hospital. My Mom called it the hospital family reunification program. Boy, it sure made for an easy recovery. We all just layed around once we got home. It was group healing, and we all had a great excuse to be lazy. The only bad thing is that my Mom would still put on all of the stuff she wears when she is going running, BUT SHE LEFT ME BEHIND. I thought that was pretty rude, because that was my favorite part of the day, but she would not give in no matter how much I head butted her or wagged my tail. Sheesh.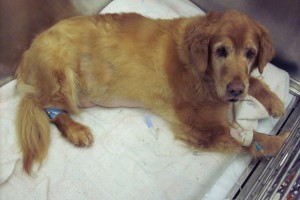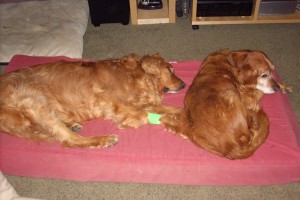 Evidently those doctors do really know what they are talking about, because I really did have immediate relief. I FELT GREAT!! My new name seemed to be SLOW DOWN, because they sure said that to me a lot. I was ready to go right away, but they made me take it easy for a while. Also, when ever people saw me, they had to come over and say something. Most of them made fun of my haircut, but my Mom always told me I was "the most handsome dog ever", so I didn't really care what the other people said. Plus, everyone wanted to touch my soft spot, and to be honest, it felt pretty good, so I liked the attention. The doctor said that cured word again, and I heard my Mom talking about how great the "margins" were on the tumor. She also said "benign" A LOT, and if that means I'm ready to go swimming again, then I'm all for it.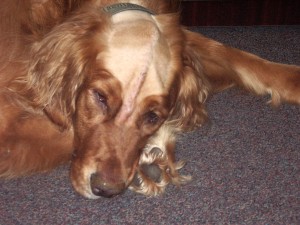 Pretty soon it was warming up and we were heading to the lake again. My Mom was still running without me, but not as much. She said it just wasn't the same to run without a dog, so I didn't feel so bad because she didn't leave me behind hardly ever.  I wish I could talk, because I sure would like to let her know that she is the chubby one now!! I had clearance to swim, and swim, and swim, and boy did I. Even if nobody was down at the water, I'd just head on down there by myself and take a dip. Every now and then my Mom would come running down to the shore looking scared, but I was just out there paddling around, and she would relax. One time she told me she was worried I'd drown, but she settled down pretty quickly when she saw how strong I'd gotten.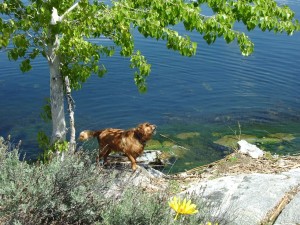 One thing about the lake, is that it makes me feel great. I think my Mom was right when she called it my happy place. Plus, after swimming all spring and summer (my surgery was in January), I was starting to feel pretty strong again, almost like my old self. I still wasn't running with my Mom, but the swimming was just as good (just don't tell her that).  Our lake house is like dog heaven. I have three dog brothers and sisters, and our neighbors have four dogs, so there are dogs EVERYWHERE, as you can imagine. We get to play as much as we want, and chase the ball, and even though my mom is a vegetarian, the neighbors buy us these really cool bones to chew on and bury, and I don't think any of us had ever been happier (except my Mom throws the "gross" bones outside when ever any of us sneak them in). We just bring them in later when Dad's around though, so it's no big deal.
One day, after a long day of swimming and playing and boating, and all the other fun stuff we do, I was playing ball with the neighbor dog. My Mom called me to her, but I thought I could get just one more fetch, so I took off after the ball anyway. She was saying something to the neighbor about me being fatigued, and that she didn't want me to play anymore because she didn't want me to blow an ACL (whatever that is).   As it turns out, I probably should have listened, because when I got to that ball ahead of the neighbor dog, I felt something really bad happen in my right leg.
After that I couldn't walk very well, and prettty soon it was back to the vet. At least they all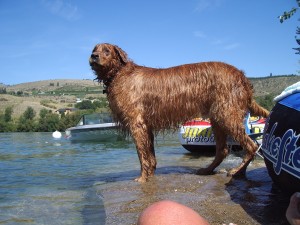 know me now, and they call me their miracle, so it's obvious I'm pretty special to them. I guess on that last fetch, I ruptured my ACL, and I have to have ANOTHER surgery. I overheard the vet saying that this one would be way worse than the first one because there wouldn't be "immediate relief". He said it would be a very long recovery period. I didn't understand everything they said, but something about their tone of voice made it pretty clear that there would be no more swimming that year. Now that's a bummer.
As you can see, I'm a very big dog (and handsome, so they say), so the knee  surgery was going to be a big one.  Everyone tells me I'm lucky to have such a good Mom, but she says that's what we do for family. When people say anything to her about spending so much money on me she gets really mad (which is uncomfortable, because she doesn't really get mad very often). She gets that mean tone with people, and says she owes it to me because if she hadn't taken me from the pound, maybe somebody else would have, and maybe they would have had more money. She says I am her responsibility, and that she wouldn't have it any other way, that she loves being my person.
Well, this is pretty long again, so next time I'll tell you all about my knee surgery (the first one), and how that went. I can tell you this…it wasn't so great.